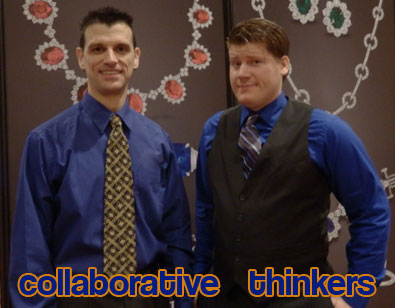 Matthew Perosi and George Blair IV,
the collaborative thinkers


The name
Sapphire Collaborative
was carefully chosen after our first 11 years working in the jewelry industry. It represents who we are (as September birthstone babies), and how closely our team collaborates with jewelers, manufacturers, and service professionals, to produce the best possible business growth results.
We are the next generation agency that provides internet marketing, print marketing support, jewelry website design, social media management, and business consulting under one roof. After all, how can you afford to hire one company for your website, another for your social media marketing, another for your content creation, and then afford a business coach -- and expect them all to know what they are doing with each other? Our goal is to show you how to tie it all together for increased profits.
Because the internet has entered every area of life, the world is now filled with the "
Internet of Things
." Today, we help our customer learn how to use the internet a little bit better every day, explaining how all those things fit together for business, and priming them for the inevitability of ecommerce.
We're also the company behind
jWAG
and all that published research. Although we don't exhibit at trade shows, you'll often find one of us on stage presenting our jWAG research for everyone's benefit, from MJSA to JCK to JA.
You can visit our main website
here
to read all about our services, and visit our
staff page
to see who we are.